Well, this is my first time joining a blog hop as Sassy Chic! I've done it several times with my writing blog,
Pioneer Writer
. So, I was looking and looking, trying to find people to follow and asking them to check my site out. I came across Sassy Sites! which totally should include me, haha! Anyways, I decided to do her blog hop, here's the
link
.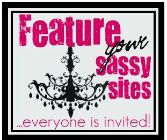 Seriously, go check her site out, it's super cool!
Anyways, as I wrote on my Xanga of SassyChic10, I am going to start creating some fairytale jewelry. Ya know, the pink pearls....6 strand necklace...crystal earrings...etc. I want to make something like this(and I certainty will try!):
To see more of what I hope to create, click
here
.
That's it for tonight!
~Natalie